By Walter Paternesi Meloni and Antonella Stirati
To understand the rise of the League and 5 Star Movement, look at economic indicators
Italy's 2018 elections results—with the success of the Five Star Movement, the relative importance gained by the Northern League, and the marked decline and ensuing disaggregation of the Democratic Party—have attracted much international attention and perhaps even caused some surprise. The anti-euro and anti-austerity character of much of the pre-electoral rhetoric of the two parties currently in power almost caused an institutional crisis in the country and generated the reaction, from miffed to arrogant, of various European leaders and commentators.
In this brief contribution we will not aim at a sociological and political analysis of the vote, for which we have no competence, but provide some data on the macroeconomic trends, and on inequality and income distribution in the last decade and some further information on what was going on before the 2008 crisis. We think these can help clear up some misconceptions and allow us to better understand why a majority of Italians voted clearly against "having more of the same"—even though it may be less clear what they voted for.
We will not touch on the very hot and complex issue of immigration, which is very important in the internal political debate in Italy and other European countries and at the same time so openly reveals European disunity and the inability to join efforts in facing it. Yet we think that the information below can indicate that even without immigration, economic and social problems are such that they might have affected Italian politics in much of the same direction and measure. In other words, we do not think that concern with immigration is necessarily the main reason for Italy's political turn. Rather, it suggests that in Italy, as in other European countries, austerity policies, labor market deregulation, and the increasing rate of poverty are not compatible with an environment allowing a civilized and orderly management and integration of immigration flows.
Italy's Double Dip and its Consequences
The 2008 crisis severely hit the Italian economy, as can be seen in Figure 1; yet the initial fall was not much larger than Germany's.
Figure 1. Italy's real GDP (billions of constant Euros)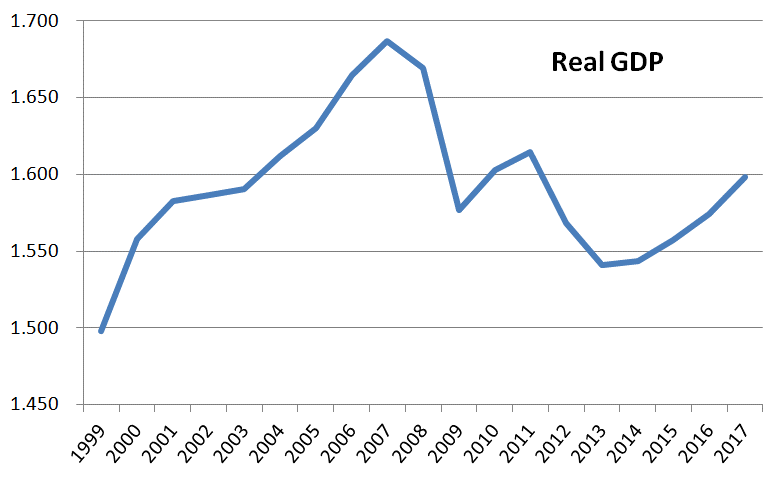 Source: OECD Economic Outlook.
Both countries have a large manufacturing sector, which is known to be more sensitive to fluctuations than the service sector. After the crisis, a recovery had begun, but was interrupted by the European "spread crisis"  (that is, falling prices and increasing interest rates on Italian and other 'peripheral' countries public bonds in the financial markets) and subsequent inception of more severe austerity policies, that caused a fall in current expenditure and public investment (as documented by Figures 2 to 5) and an increase in overall tax revenues of 18 billion euros in the period 2011-2013, mostly owing to an increase in indirect txation. As a consequence of such measures GDP fell sharply (-73 real billion euros, i.e., -4.5 percentage points), despite some recovery in exports. Industrial production fell much more than GDP: it dropped by one fourth between 2007 and 2009, then recovered 7 points in 2010-11, but fell again subsequently and in 2015 was still slightly below the 2009 level.
Figure 2. Italy's government current expenditure, including interest payments (billions of constant Euros)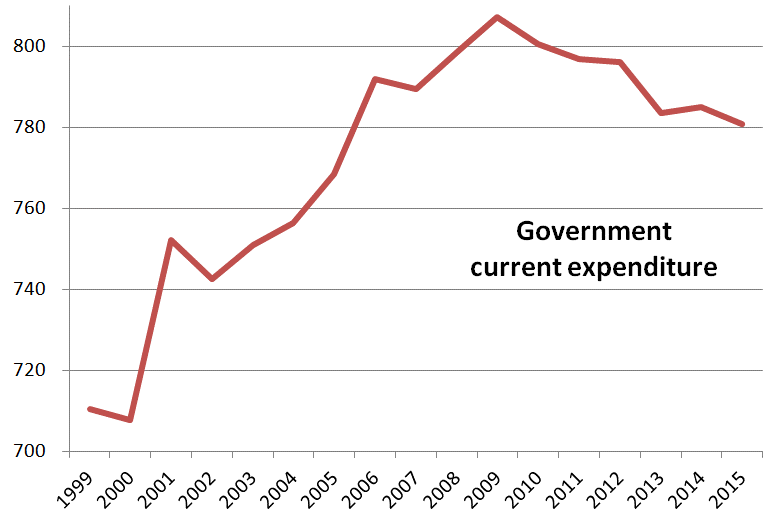 Source: OECD.Stat (COFOG).
Figure 3. Italy's public investments (billions of constant Euros)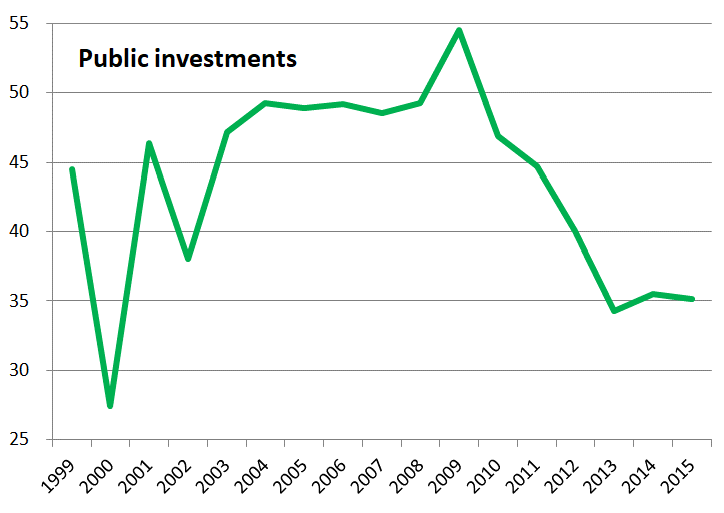 Source: OECD.Stat (COFOG)
Figure 4 and 5. Italy's government current expenditure by function (billions constant Euros).